Pictured in image above (L-R): Tracie Driscoll (SFFS), Agatina Russo (Wellways) and Jenny Elvey (SFFS) socially distanced outside the Shepparton PARC in February 2021.
FCVic is delighted to have received approval from the Victorian Government to proceed with our pilot trial 'On Track with My Money'. The pilot is part of our Mental Health project, funded within the Victorian Government's COVID-19 response. It explores the super-additive potential of financial counselling when integrated within mental health support systems.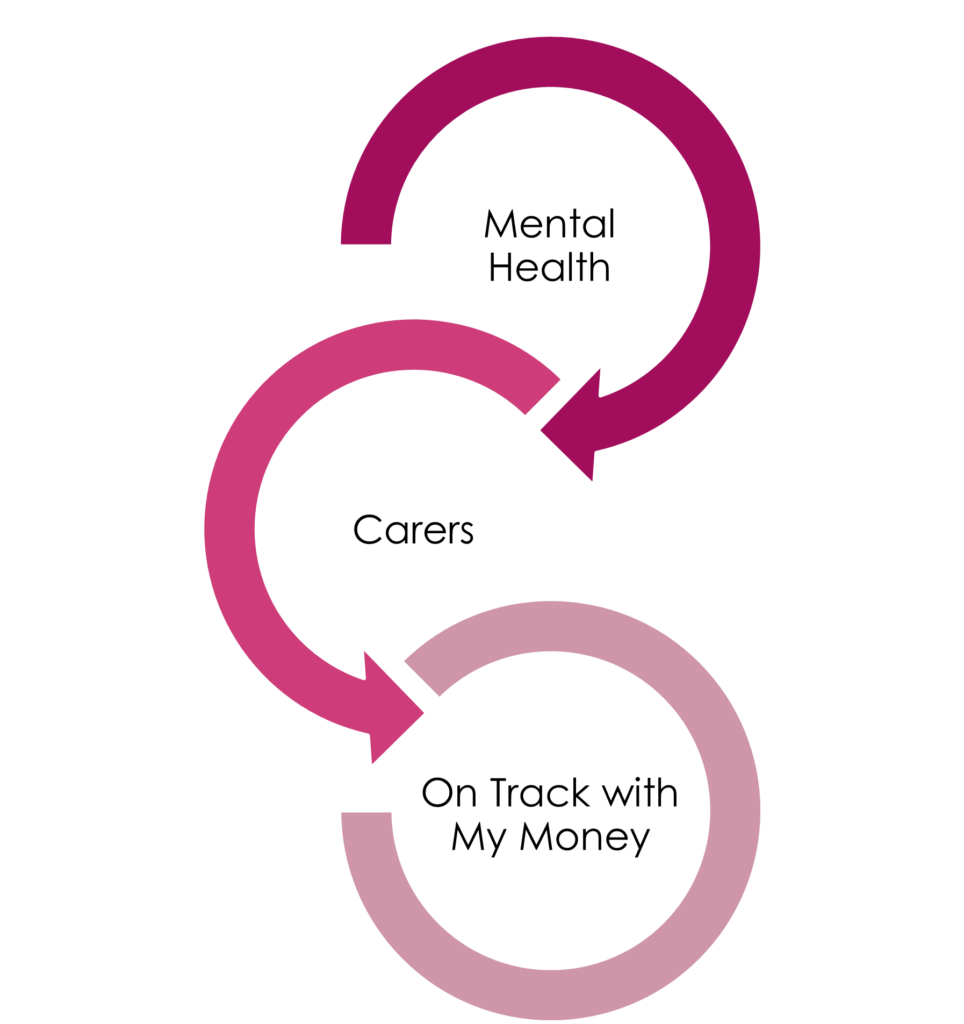 We are keen to gain from the synergies available by working across the FCVic projects portfolio. Accordingly, FCVic proposed that this pilot trial should also explore the needs of carers who are also engaged with the mental health support system. The Victorian Government has approved this complementary exploration of the needs of both carers and the person they care for within our trial, drawing from FCVic's Carers project.
'On Track with My Money' is based in Shepparton. Shepparton Family and Financial Services will work in a deeply integrated way with the mental health supports delivered by Wellways, in collaboration with Goulburn Valley Health. We are grateful for the generosity of both services in helping to develop the trial proposal and establishing a strong basis for working together.
While the comorbidity of financial distress and mental health is recognised, supports for dealing with each aspect are often fragmented. People experiencing mental health challenges may be referred for financial counselling, or vice versa, yet scope remains for more in-depth co-working between mental health supports and financial counsellors. Further, for a person wishing to "work towards their self-defined recovery"[1] there may be many points over time and across the service system where collaborative supports can help.
In addition, the role and perspective of the person's carer/s can be overlooked. Carers also experience financial difficulties that may be quite complex and interwoven with the financial issues of the person they care for. As for anyone, these financial stresses may affect the carer's mental wellbeing and impact on their capacity to undertake their caring role. Providing explicit attention to carers' needs in a 'twinned' model where both the carer and the person they care for receive support from their own, dedicated financial counsellor, may help maximise the potential for both parties to achieve a stable and ongoing recovery relationship.
For more information, please contact Dr Suzy Goldsmith: [email protected]
---
[1] Victorian Department of Health (2011) Framework for recovery-oriented practice. State Government of Victoria, August 2011.