Elder Abuse Action Australia (EAAA) is the national voice for action to eliminate elder abuse through systemic advocacy and policy development, best practice and research, and education and capacity building. EAAA is a specialist organisation with knowledge of issues that impact older people and their families, communities, and broader society. The EAAA board represents advocacy groups, including FCVic, and individuals who are strong advocates on elder abuse in their jurisdictions.
Katrina Barrett virtually attended the 7th National Elder Abuse Conference, 'Walk the Talk', held on 14 and 15 February, which was co-hosted by EAAA and COTA Tasmania.
Dr Suzy Goldsmith caught up with Katrina to hear her reflections on the EAAA Conference.
Suzy: The conference looked interesting with a wide-ranging program – there were often several sessions running at once, with the 400 people in attendance choosing the sessions that best suited them. What sessions did you attend?
Katrina: I was keen to hear about the work being done relating to financial elder abuse, so I chose sessions that mentioned financial abuse or financial counselling – it was encouraging to see a diverse mix of people in these sessions, from a range of organisations.
Did you have any particular highlights?
Yes, we heard from Senior Sergeant Alasdair Gall of Victoria Police Family Violence Command about the trials currently underway into how the police can intervene to combat financial elder abuse. It was heartening to hear more as I have referred at least 2 people to this program already, and Alasdair mentioned he has been receiving calls from districts across Victoria.
This trial is working to improve the response if a person presents at a police station, suspecting they are being defrauded. Previously, a victim may have gone to the front desk of the local police station with a bank statement and said 'look, someone has been transacting on my account and taking money out or using my credit card' and they have been turned away as it is viewed as a civil, rather than criminal, issue.
This is now being identified as financial elder abuse and the Police Academy has developed specific training. This training extends to identifying when the perpetrator is attempting to portray the victim as the aggressor, as well as how to do a thorough welfare check and risk assessment, that indicates to the perpetrator that the situation is being monitored by police.
Did you hear from any organisations not based in Victoria?
Yes, I did – in another session I heard from Shannon Wright, CEO of Seniors Rights Service, an organisation in New South Wales that covers both community-based elder abuse and elder abuse within aged care settings. Shannon shared some great resources they have developed (these are linked below the interview), including some radio ads that I thought were great.
Why did these stand out to you?
The messaging was simple yet non-patronising, and available in some key community languages. Well produced and the acting seemed natural.
And you heard from Commonwealth Bank about their work in identifying financial abuse?
That's right, in another session we heard from Dr Brendan French, Executive General Manager, Customer and Community Advocacy at Commonwealth Bank, who is lead on customer vulnerability and advocacy for that bank and someone who is familiar with the work of financial counsellors.
He spoke to the new ways they are spotting changes in people's online banking habits to identify potential fraud which was interesting. He spoke about scams – something we have heard a lot about over the last two years.
The Kimberley Jiyigas (Birds) session looked interesting – did you attend that?
Yes, Natasha Short spoke about No More Humbug!, a program that Kimberley Birds was commissioned to create by the Kimberley Community Legal Services to research financial abuse of Aboriginal Elders. She talked about how community outreach was sometimes difficult with more services becoming more digital, and she shared some newly developed resources – which included some particularly nice videos, linked below. Their website is beautiful and I would encourage anyone reading to have a look: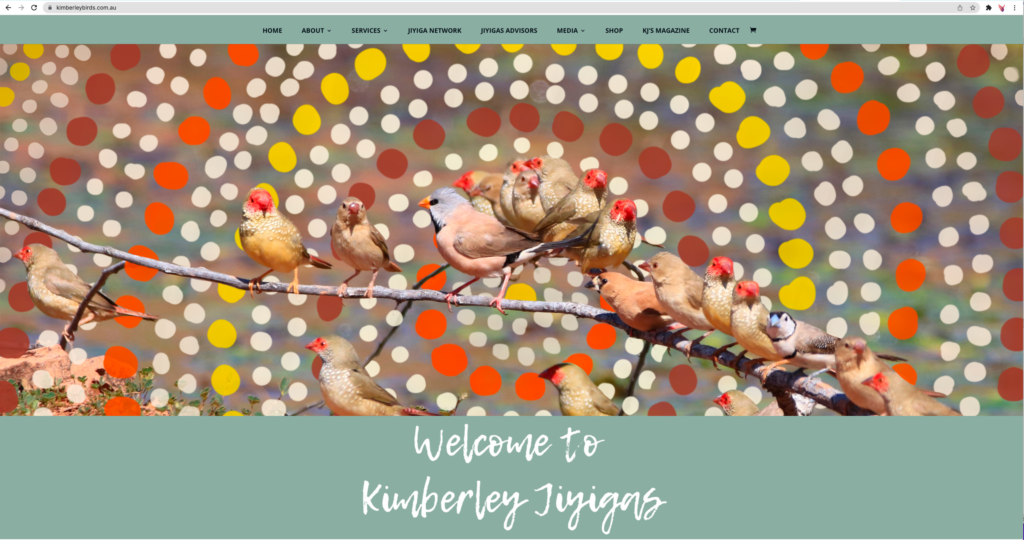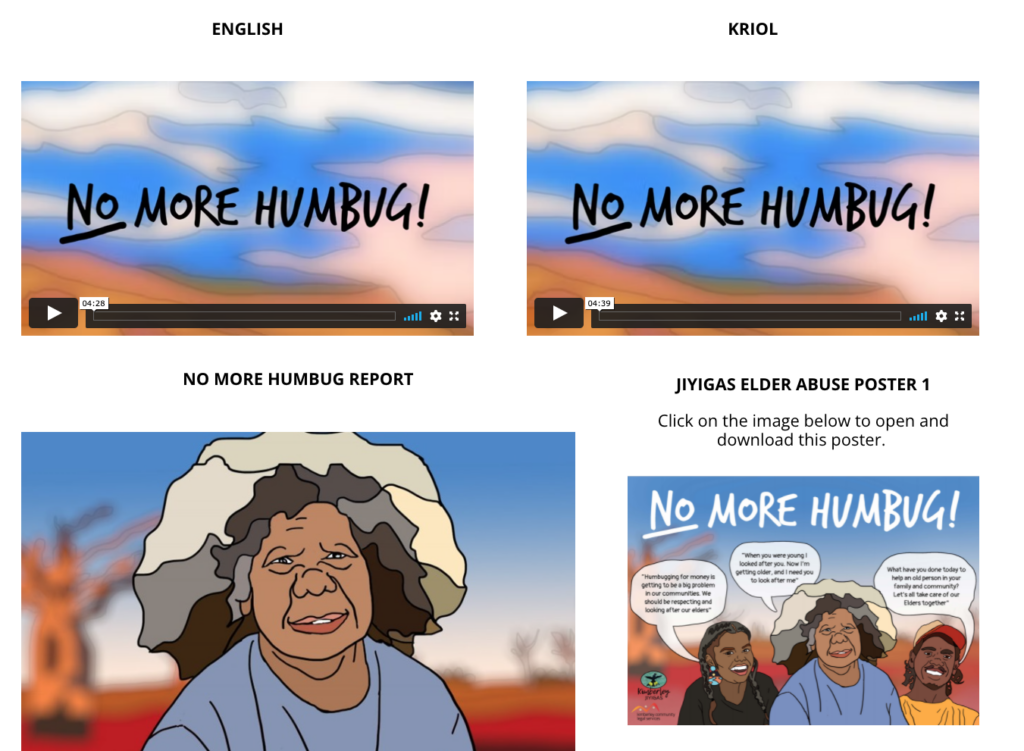 Any final reflections?
I enjoyed the session about 'Diverse Experiences of Elder Abuse', in which Sonia Di Mezza spoke about applying a cultural lens to elder abuse and how elder abuse becomes considerably more challenging when it occurs within a culturally diverse context, and how to recognise and navigate these complexities as an advocate.
And finally, it was mentioned that it might be helpful to begin viewing elder abuse holistically, as part of a life-span, and how this may intersect with earlier instances of family violence. Something to think about!
Thank you, Katrina, great to hear about the conference – a lot of ground covered in just two days.
Along with discussions, Katrina and Suzy would like to share the following resources – they range from translated short videos and radio clips, to websites that host an incredible wealth of information.
---
Additional resources
National Elder Abuse Prevalence Study – Summary Report December 2021 (click for PDF)
Elder Abuse Action Australia
Major compendium of elder abuse resources
Seniors Rights Service NSW
A series of videos with English subtitles:
The Loan (Arabic)
A New Life Downunder (Hindi)
The Granny Flat (Hindi)
The Loan (Mandarin)
I Can Decide (Chinese)
A series of commercials run on community radio during the pandemic
A series of commercials run on community radio during the pandemic
Developed for Aboriginal and Torres Strait Islander Community:
Developed for CALD Communities – in Arabic, Cantonese, English, Hindi, Mandarin:
Spending My Pension
Under One Roof
Don't Share Your Pin Number
Respect for Seniors
Love and Money (a gambling-focused video)
Kimberley Jiyigas (Birds)
https://kimberleybirds.com.au/financial-elder-abuse/
No More Humbug!
Training guide
Video in English and Kriol
Poster
Bendigo and District Aboriginal Cooperation (BADAC) with Seniors Rights Victoria