On Friday 3 June, FCVic had the pleasure of attending the Young Carers Festival, an annual event organised by Little Dreamers, Carers Victoria and Merri Health. To the delight of young sports lovers, this year's festival was held at the Australian Sports Museum at the MCG. The evening celebrated young carers and their families, and was full of fun, food and entertainment.
FCVic and Social Security Rights Victoria (SSRV) shared a stall at the festival. Both organisations were well represented – we were joined by financial counsellors Katrina Barrett and Robyn Angus from the FCVic projects team, and Dermott Williams and Graeme Parsons, lawyer and financial counsellor respectively, from SSRV. The night presented a fantastic opportunity to connect to the parents and guardians of young carers – many of whom are carers themselves. We hoped to be able to increase awareness of the work that both financial counsellors and SSRV do, and to share the work that FCVic has been doing as part of our two Financial Counselling and Carers projects.
Our stall was nestled between exhibits of football jerseys and cricket bats – on one table we displayed a range of FCVic, SSRV and National Debt Helpline factsheets, ready for visitors to collect and take home, and on the other we had set up a badgemaking station for younger guests. The badgemaking table was fully equipped with textas and sparkly pens – and kids were invited to design their own badge – or to colour in one of the templates we had created using characters from our 'Problem with Debt' blog series. Our strategy was to entertain young carers at one table, giving their family members an opportunity to chat to the attending financial counsellors and lawyer at the other.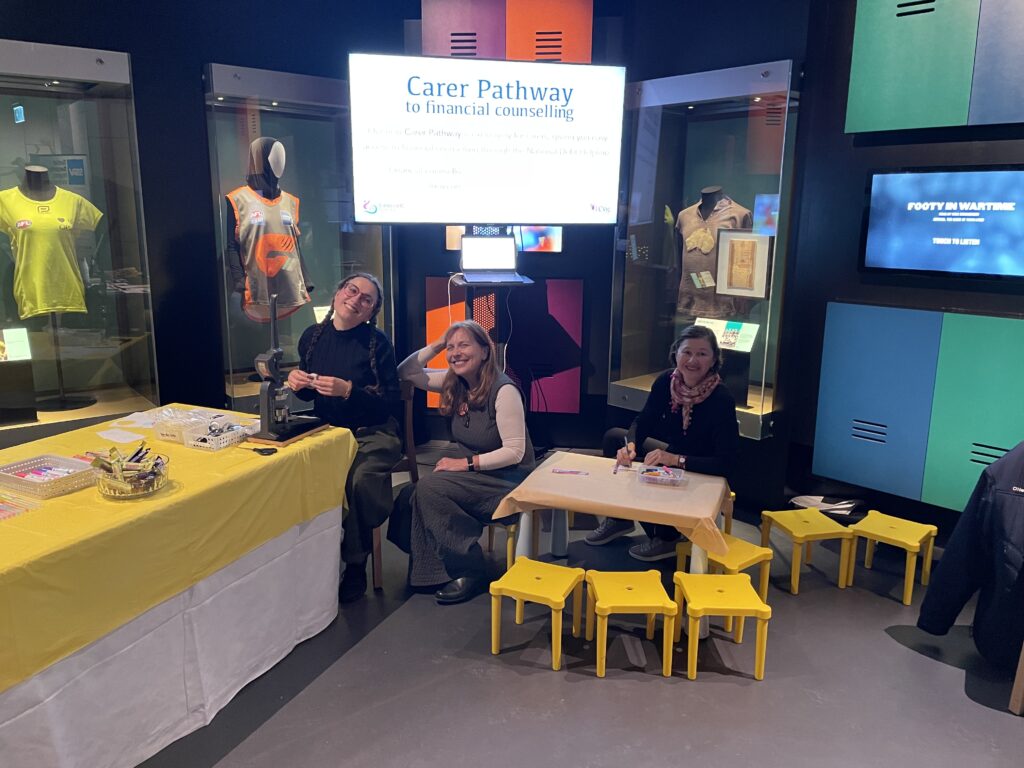 It is safe to say this strategy worked beautifully – the badges were a roaring success! Throughout the night, Katrina, Robyn, Dermott and Graeme spoke to many of the attending adults, while younger visitors delighted in the opportunity to create something they could wear home (some even making four or five badges!). Thanks to Susan Boag, FCVic's Digital Communications Officer, our stall was accompanied by a video that showed attendees how to access the new online Carer Pathway to financial counselling – and factsheets providing information about the Pathway were also available on our table.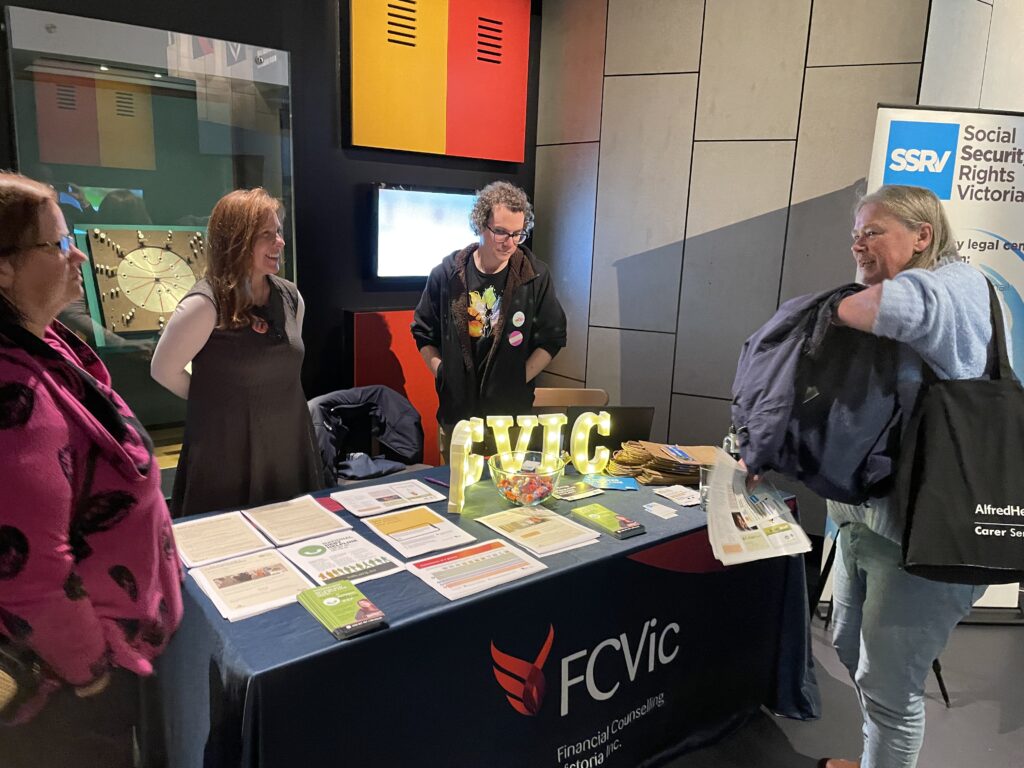 The Young Carers Festival was a great opportunity to meet members of the broader community, and to chat to carers about their experiences and money concerns. While it was fantastic to raise awareness about financial counselling, it was equally rewarding to see so many young carers enjoying themselves. For many, this was the first Little Dreamers event they had been to – or their first since the pandemic began – and some had come from as far away as Ballarat and Bairnsdale! As the night wore on, young carers showcased their singing and beat-boxing talents and laughed uproariously as comedians and a magician took to the main stage. By the end of the evening it was clear – the highlight of the event was the resilience and joy of the young carers – and we came away reinvigorated and excited to continue our Financial Counselling and Carers projects.