The Rising Star Award is for an Associate or Intern Member of FCVic who has demonstrated excellence in financial counselling service delivery.
Examples could include but are not limited to:
Successful advocacy on a case that displayed innovation or original thinking
Resolving a complex financial counselling case
Developing and presenting innovative Community Development/ Education initiatives
About the Rising Star Award
The Rising Star Award was presented for the first time at the 2015 FCRC conference, and recognises the sector's newest entrants and future leaders.
This award is for a financial counsellor who has recently completed the Diploma of Financial Counselling or who is currently completing the diploma. The nominee must have less than three years' membership with FCVic.
Past recipients of the
Rising Star Award
2022 – Dean Oakley & Sarah Duane
2020 – Tammy Cross
2019 – Kylie McLoughlin
2018 – Issam Alameh
2017 – Susan Orchard
2016 – Bronwyn Seiter
2015 – Julie Barrow
Nominations are now open for the Rising Star Award.
Closing date for nominations:
Nominations close at 11.59PM on Sunday, 3 September 2023.
Award presentation:
The award is presented at the annual FCVic Gala Awards Event.
The 2023 FCVic Gala Awards event will be held on Wednesday, 12 October at Mantra Lorne.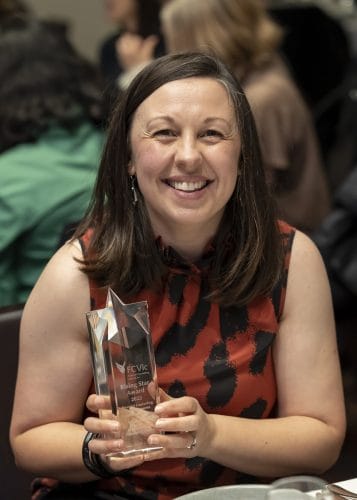 Nominations for the Rising Star Award are currently closed.
Award presentation:
The award is presented at the annual FCVic Gala Awards Event.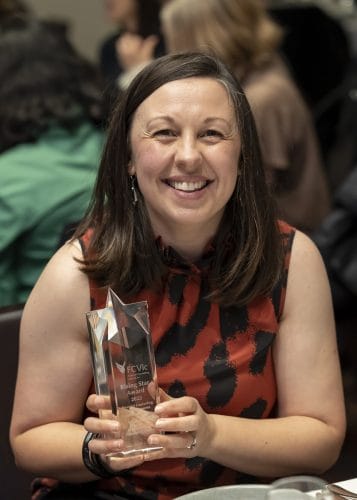 Nomination guidelines:
Provide a summary of why you think your colleague would be a worthy recipient of the award.
Make sure you address the criteria, for example, by outlining how the nominee has helped their community over and above their job description as a financial counsellor.
The nominated person doesn't have to be present at the awards presentation to be eligible for their award. A proxy can accept the award on the recipient's behalf. The FCVic office will liaise with the nominator to arrange this beforehand.
Nominators may attach additional pages and supporting materials to the nomination form.
The FCVic Board will appoint a selection panel to consider the nominee's relative merits in accordance with the criteria for the award they are nominated for.
The panel will provide recommendations for the awards on a confidential basis to the FCVic Board. The awards recommended by the Panel will be considered by the Board for ratification. If a recommendation is not ratified the award will not be conferred. The Board's decision is final and no correspondence will be entered into.