On the afternoon of Sunday, April 24 we had the pleasure of attending the Smart Women Smart Money Completion Celebration at the Monash Community Inn in Clayton.
This event recognized the achievement of 33 women leaders who completed the Smart Women Smart Money program – a training program codesigned and facilitated by FCVic in partnership with Australian Multicultural Community Services (AMCS). The program, which has now been run twice (first in November 2021, then in February of this year), consists of five 90-minute online workshops for women from culturally and linguistically diverse (CALD) communities. The aim of the program is to empower attendees to become 'financial conversation leaders' in their communities – enabling them to start conversations about money, to share useful resources to those who want to learn more, and to support and improve the confidence of other women as they take control of financial decisions.
Sunday's event was a fitting celebration of both the achievement of the 33 financial conversation leaders, and the strength and pride of their communities. It was exciting to be able to meet in person – and delightful to see so many of the financial conversation leaders and their families in attendance (on the Sunday afternoon of a long weekend no less!). And AMCS can certainly put on an event – the atmosphere was joyful and exuberant; the kitchen bustling with preparations for a magnificent afternoon tea – including the mouth-watering smell of freshly cooked samosas and spring rolls!
The formal component of the celebration comprised speeches from representatives from AMCS – Elizabeth Drozd, CEO, and Dr Medha Gunawardana, Community Strengthening Manager – and FCVic – Dr Suzy Goldsmith, Lead Special Projects. These were followed by brief speeches from local politicians and women leaders, including Mr Lee Tarlamis, MP for Southern Eastern Metropolitan Region, Cr Nicky Luo from Monash City Council, Ms Cassandra Fernando and Ms Rida Ali Khan. Thelma Nascimento, one of the financial conversation leaders, also gave a compelling argument for the importance of empowering women to independently manage their finances.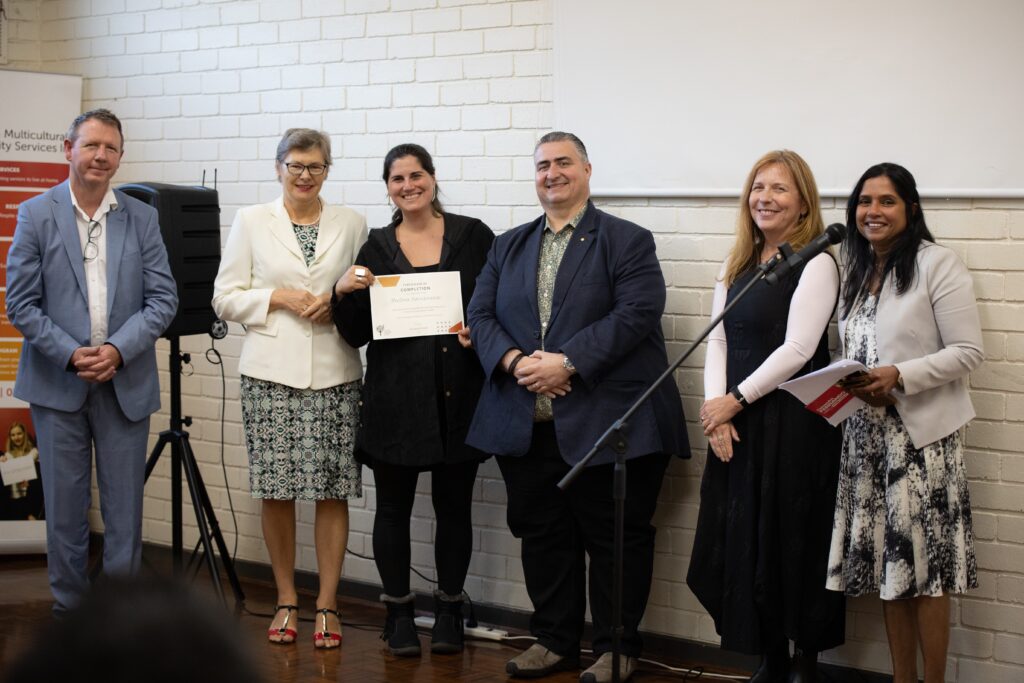 These speeches were punctuated by three joyous dancing performances – a Sri Lankan ensemble performance by four women from the Sri Lankan Respite Group in Endeavour Hills, and two solo dances by incredible young women – Bharathanatyam, performed by Madhumita Venkatachalam, and a Bollywood dance that fused Punjabi and Gujarati dancing styles, performed by Sanika Ribadia. The formalities culminated in the certificate awarding ceremony, in which FCVic's EO Dr Sandy Ross joined Elizabeth Drozd to award certificates and congratulate the financial conversation leaders.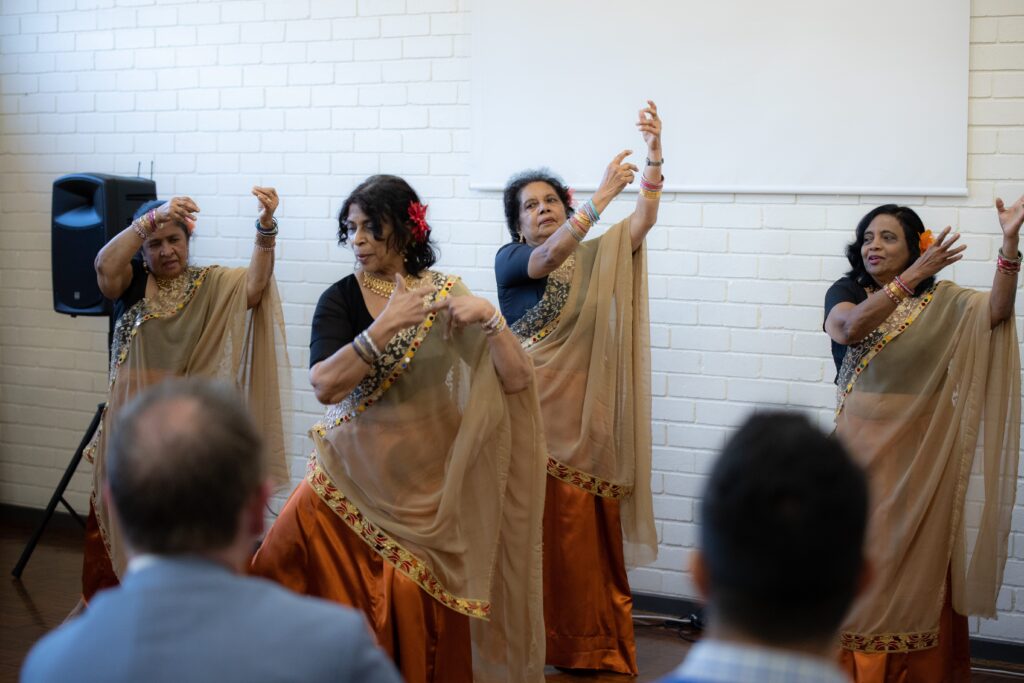 The refreshments at the afternoon tea that followed did not disappoint – cakes, sandwiches, copious platters of fruit and cheeseboards – and of course the hot food we'd been lusting after throughout the ceremony. It was lovely to have an opportunity to chat to the financial conversation leaders in such a festive atmosphere, and to celebrate their achievement in a way that befit the work they had done.
You can find an excerpt of Suzy's short speech below, which outlines the origins and aims of the financial conversation leader concept:
So why do financial conversations matter? Well, money is often hard to talk about, but it does help to understand it so we can decide what to do. A simple conversation, with those we trust, helps us to feel more confident about money matters –
What are our rights as citizens and consumers?
What choices do we have?
Where can we find reliable information? And –
Who can help us?
As a financial conversation leader, you can play an important role in your community. You can help people to discuss financial issues and give them information they can use to help themselves. Financial Conversation Leader is a new role designed to support Smart Women Smart Money. At the start, Katrina and I met in person over many Saturday morning cups of coffee. We thought long and hard. What are we expecting of these Smart Women? Gradually, the role of financial conversation leader took shape – someone who –
Respects others' boundaries
Ensures privacy and confidentiality
Uses listening and communication strategies
Encourages people to seek out information and make their own choices, and
Understands and respects cultural differences.
These were the foundation skills we covered in our first session together. The remaining four sessions explored common money situations –
Managing the household budget
Staying on top of money problems
Keeping yourself financially safe and secure, and
Staying financially afloat during life's ups and downs
But we could not have done this without your help. When we all met for co-design, you supplied us with your knowledge and insights about the money situations faced in your communities. Your ideas helped us to make our sessions relevant, and to include stories that would bring the conversation leader's challenges to life.
If there is perhaps one thing to take from Sunday's event, it is not so much what we could teach a group of smart and empowered women during the Smart Women Smart Money program, but rather what we can learn from both these strong women and AMCS itself: for what was on display was the strength of AMCS' connections to diverse CALD communities across Melbourne, and what it really means to build and nurture community on the ground.