Late last year, the Special Projects team let you know about the Money Check Up project that we were running. This is an outreach project linking mental health and wellbeing services to local financial counsellors. We would like to update you on the impact of the sessions provided to these services.
During the period November 2022 to March 2023, FCVic presented the Money Check Up Session to ten mental health and wellbeing teams; this included seven Hubs and three of the new Locals. The session was presented to 87 staff in mental health and wellbeing services. We included 26 local financial counsellors across these sessions.
A pre-session survey was distributed to mental health and wellness workers ahead of their participation in a Money Check Up session. The five questions were designed to gauge respondents' confidence and knowledge when engaging in financial conversations.
When asked how confident they felt to explore their clients' financial concerns, respondents indicated their confidence as a score out of 100, with 0 denoting 'not at all confident' and 100 denoting 'very confident'. The average score given was 54, while one quarter of respondents gave themselves a score lower than 30.
Respondents were next asked how well they understood the kinds of assistance that a financial counsellor could provide to a client; again, respondents indicated their understanding as a score out of 100, with 0 denoting 'little understanding' and 100 denoting 'very good understanding'. The average score given here was only 45, indicating a relatively low understanding of the financial counselling role across participants.
Respondents were also asked what percentage of their clients, in the month preceding the pre-session survey, had expressed financial concerns. Respondents estimated that, on average, 58% of their clients had done so. However, of those clients who expressed financial concerns, only 32% were referred to a financial counsellor by the survey respondents. Further, respondents indicated that their clients found it difficult to access financial counselling when they needed it: when asked to score the ease of access of financial counselling from 0 (very difficult) to 100 (very easy), respondents gave an average score of 40, with 30% of respondents giving a score lower than 10.
We also requested that participants complete a post-session survey in the days following their attendance at a Money Check Up session. Here, the respondents indicated their confidence to explore a client's financial concerns had improved markedly – in comparison to the average score of 54 given in the pre-session survey, the post-session average was now 91 (i.e. very confident). Respondents also indicated that their understanding of financial counselling had increased enormously: in comparison to a score of 45 in the pre-session survey, the post-session average was 97 (i.e. a strong understanding of financial counselling). Finally, when asked how confident they were to refer a client to a local financial counselling service, respondents gave extremely positive responses: asked to score their increased confidence between 0 (not at all) to 100 (to a great extent), the average score was 98, with two-thirds of respondents scoring 100.
This graph might be helpful in understanding the results –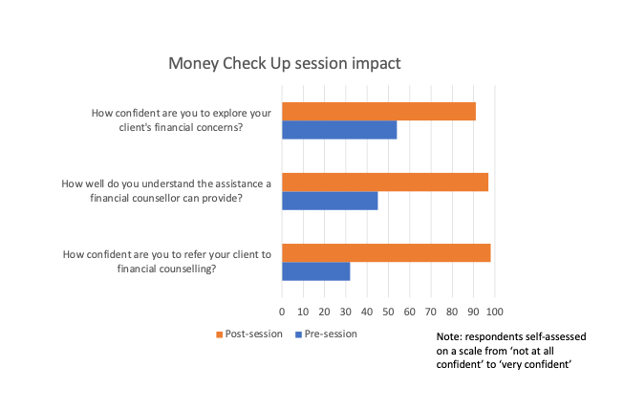 The comparison of these survey results demonstrates how effective Money Check Up sessions were in raising the mental health and wellness workers' confidence when engaged in a financial conversation, their understanding of the support a financial counsellor can provide, and their ability to refer clients to a financial counsellor.